Lay-by of the week special:
The views from a Devon train
Back to our normal format next week on the nation's A-rated, A-road Thermos stops, but I've taken the liberty of designating a number of trains in the South west of England as personal lay-bys and attempted to take pictures. They are variable in quality - some trains just seem to be smeared with a veneer of fly corpses, sea splatter and dirty rain. Sometimes polarising the sky for a nice effect also brings out the rectilinear strip light reflections that head off towards our destination, which is an effect I don't mind too much.
The trains I travelled on were the Great Western 125 mph from Totnes to Exeter and the more modern but 90 mph from Exeter to Salisbury. On my way to Exeter, I was hoping to catch a good view of the fantastic New Red Sandstone cliffs around Dawlish, as featured in
The Lie of the Land
. I got something of it, through the fly carcasses, and it looks like an old double-exposed holiday slide that has been wedged under a shelf in the garage since the 1970s. It was, at least, nice to make something that came with an instant patina of age on a digital camera.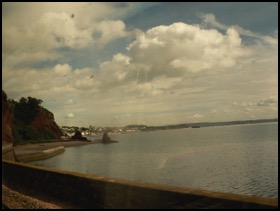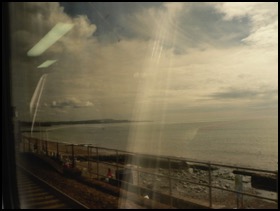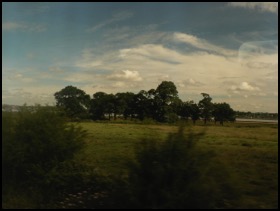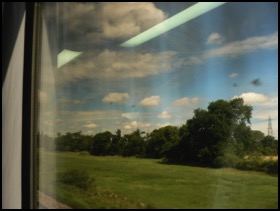 The second two shots are nearer Exeter, of clumps of trees on the Exminster Marshes. By the time that I had got on a cleaner train, I took some more presentable shots of the kind of thing you see from trains, this time mostly between Exeter and Yeovil. This first shot is of some trees in the Axe Valley - I'm hopeless at trees, but they're in the right environment for Alder and Willow. I like the way they're all leaning here, as if in agreement with one another.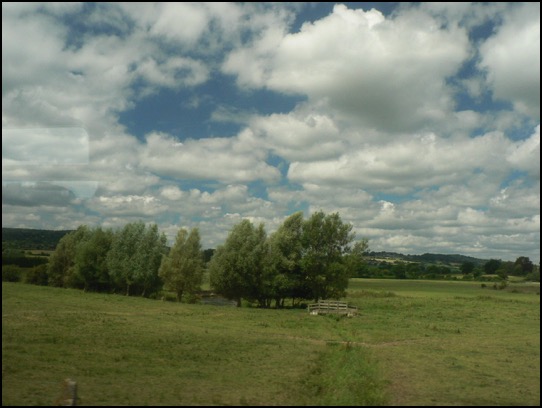 The second shot is quite near Yeovil. The reflections from the train's internal lighting give the sky some go-faster stripes.