Lay-by of the week special
ROAM: The London Lay-by Library
Bit of a diversion off the A-roads of rural Britain this week into an old mobile library van parked close to an urban A-road or two: the ROAM London project.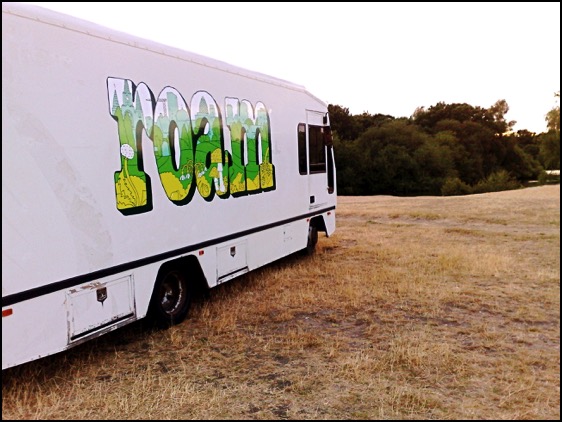 ROAM at Hollow Ponds, Whipps Cross Road

ROAM is touring the five Olympic boroughs of London over the next three weeks as a peripatetic arts space, a mobile reading room and a venue for talks and performance. It has its own reference library and comes complete with a proper parquet floor. It's the idea of
Caught By The River's
Robin Turner and fits well with that website's general ethos of taking solace in easy, idle pursuits and looking for the rural within our urban lives.
I've already had the pleasure of taking the message of the British Landscape Club there and chatting about the Britain beneath its wheels and I'll be doing it again three more times over the next week and a half, so come and join me.
Friday 9 July
3pm
*NOTE NEW TIME*
Beneath Our Feet: Three Billion Years an Hour Through Britain's Past
ROAM London: Haggerston Park • Parked up behind the tennis courts • E2 8NP
Friday 16 July
7.00pm
Beneath Our Feet: Three Billion Years an Hour Through Britain's Past
ROAM London: Mile End Park • Grove Road • E3
*NOTE NEW VENUE* (Was at Truman Brewery)

Monday 19 July
7.30pm
Beneath Our Feet: Three Billion Years an Hour Through Britain's Past
ROAM London: Oxleas Woods • Shooters Hill • SE18 3JA