A Moving Tale: Roadside Crosses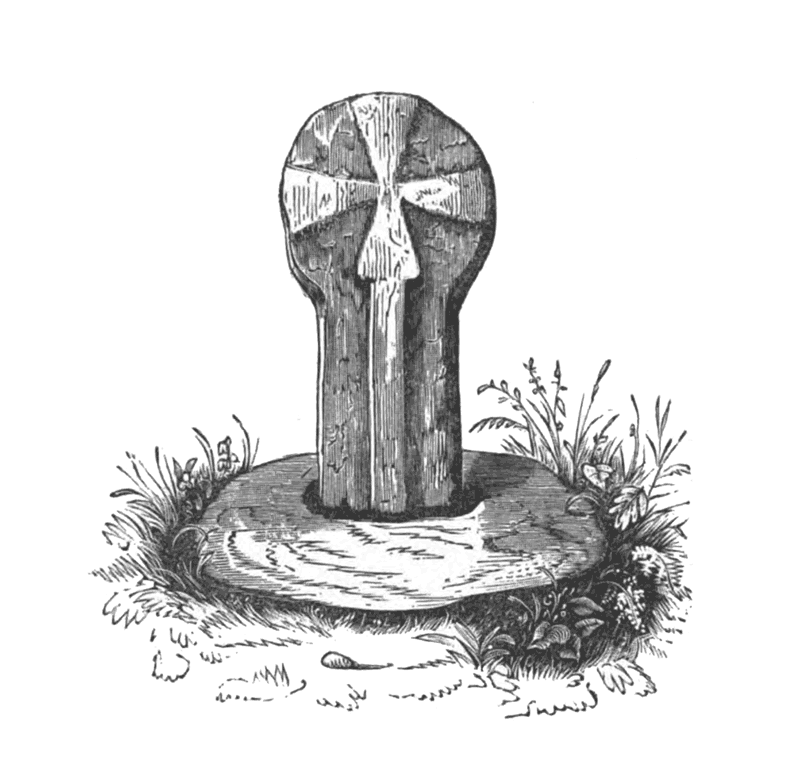 Boswarthen Cross, Madron. From
Ancient Crosses and Other Antiquities in the West of Cornwall
John Thomas Blight 1856

If you're off on your summer holidays soon, it's likely that you are not only getting ready for a long journey to the beach, airport or woodland cottage of your dreams, but also preparing for the familiar chorus of 'are we there yet' from the back seat. Passing on Robert Louis Stevenson's adage that it's "better to travel than arrive" to children is all very well but, despite his interest in pirates, Stevenson never had to drive the family down to Cornwall in a hatchback.
Long trips feel shorter for everyone when the sights and sounds distract from the monoculture of asphalt and white lines. Instead of just commuting to your holiday this year, why not investigate the road and the romantic tales of travel it offers. Indeed, a variety of monuments erected as waymarks, memorials or commemorations of epic voyages of the past can be found in Britain's verges.
Most of them take the form of the roadside cross which, in Britain, are distributed north and west of the Jurassic line that runs from Dorset to the Tees and marks where upland and lowland meet. A few crosses crop up to the east of this line on the chalk; one such is Fat Betty – often called White Cross – on the North York Moors just south of the Castleton to Rosedale road. Betty has a square, squat base that carries a tiny round head on which the cross itself is inscribed. She also serves as a boundary marker and like much ancient roadside furniture, there is a story attached which links her to other nearby stones and crosses.
Elsewhere, crosses like Boswarthen, near Madron in Cornwall, are sometimes used to mark a route of pilgrimage. Boswarthen stands close to the path that leads to Madron Well, where 'clooties' of cloth hang from the trees, slowly rotting away – so the legend has it – as the well's waters heal the sick.
A set of elaborately decorated crosses adorn the route of a medieval funeral cortege between Lincoln and London. These are the Eleanor crosses; twelve were originally erected in wood between 1291 and 1294, but were later replaced in stone. They mark the twelve day journey of the body of Eleanor of Castile, the wife of King Edward I – each cross was erected at a place where the Queen's body rested for the night. Of the twelve, only three remain – at Geddington and Hardingstone in Northamptonshire and Waltham Cross in Hertfordshire. A Victorian replica of the original Charing Cross – destroyed by Parliamentarian forces in 1647 – now stands in the forecourt of the railway station named in its honour. As Stevenson would say himself: "Travel for travel's sake. The great affair is to move."